For all actual events please take a look on Jörgs Homepage personal homepage: www.joergbuttgereit.com
Buttgereit in Hollywood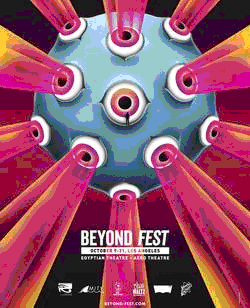 Director Jörg Buttgereit In Person at the American Cinemateque in Los Angeles! The notorious German director joins BEYOND FEST 2013 with his unique shockers NEKROMANTIK and SCHRAMM: INTO THE MIND OF A SERIAL KILLER. Only Existing 35mm Prints!
Due to extreme sexual and graphic violence, no one under 18 will be admitted. Discussion between films with director Jörg Buttgereit.

Thu, Oct 24, 2013 • 7:30pm.
Egyptian Theatre, 6712 Hollywood Boulevard, Hollywood, CA 90028

Jörg Buttgereit will also be a guest at the Housecore festival in Austin, Texas from 25th to 27th of October 2013 to present his movies.
MONSTERS OF ARTHOUSE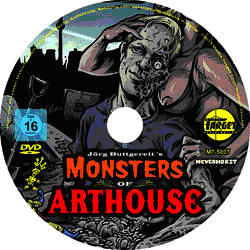 New Jörg Buttgereit DVD "MONSTERS OF ARTHOUSE" will be out in Oktober 2013 from Media Target distribution in Germany.
The codefree DVD compiles the 3 Buttgereit stageplays GREEN FRANKENSTEIN, SEXMONSTER! and VIDEO NASTY with English subtitles.
Music-clip "Lemmy I´m a Feminist"
Jörg Buttgereit shot the music-clip "Lemmy, I`m a Feminist" on Super 8 film for the German girl group "Half Girl".
German reviews
watch the clip here
Director Jörg Buttgereit is teaming up with Andreas Marschall and Michal Kosakowski for the three-part independent Horror-anthology GERMAN ANGST. This will be something of a return for Buttgereit, who's spent much time focusing on theater and radio plays in recent years.

In a conversation with Kier-La Janisse in FANGORIA #323, the filmmaker who battled authorities with notorious works like NEKROMANTIK, alluded to the possibility of GERMAN ANGST, explaining "I just wrote a script for a short film that might be part of an anthology feature from German horror filmmakers. One of the others is Andreas Marschall, who did a giallo called MASKS and painted the NEKROMANTIK poster in 1987. He told me he was traveling with his film all over the world, and at nearly every Q&A, people asked him, 'What is Jörg Buttgereit doing?' So he came to me and said, 'I want to do a compilation film and you have to be part of it because everybody's asking me.' That might be something that happens next year, because this year I'm busy with work on KANNIBALE UND LIEBE, my Ed Gein stage play, and I'm also doing a radio play on Kim Jong-il."

Visit the GERMAN ANGST website.
Buttgereit curates filmprogram in Vienna
"They were looking for something different, but something different saw them first."- At the invitation of the Viennale and armed with this tagline, the well-known German filmmaker, critic and aficionado Jörg Buttgereit has put together a program of about a dozen films, each of them playing with fire in their own way: a fire that suddenly flares up in flames of eeriness, horror and fear.

The "Something Different" program is based on a small curatorial experiment. The starting point for this film presentation was an advertising slogan for the classic horror movie THE HILLS HAVE EYES, whose trailer starts the words, "They were looking for something different, but something different saw them first." A sensational slogan as well as a wonderful definition of the elementary ambivalence between cinema and audience.

V'12: OCTOBER 25 - NOVEMBER 7, 2012, Vienna, Austria
Meet Jörg in Indianapolis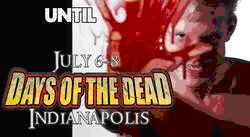 Jörg Buttgereit will be a guest at the "Days of The Dead" from 6-8 of July 2012 at the Wyndham Indianapolis West, located in Indianapolis, IN.

Days of the Dead's primary goal is to bring back the concept of the genre convention being a welcoming communal gathering of like minded friends and fans and not just another "pay-and-go" autograph show that has become an all too common experience in the convention scene.
Join LAURENCE HARVEY (Human Centipede 2) and JORG BUTTGEREIT (Nekromantik 1 and 2, Der Todesking) for a special dual panel with the MONSTERS OF SHOCK. Both gentlemen will be not only taking questions from the audience but also engaging each other, in a casual, intimate conversation sure to cover everything from cult cinema to necrophilia, happening Saturday, July 7th only at DAYS OF THE DEAD: Indianapolis.
New stageplay
Jörg Buttgereits new stageplay GREEN FRANKENSTEIN + SEXMONSTER!" is playing 2012 in Dortmund, Germany.
Watch a Trailer here!
German reviews.
OSAKA POPSTAR + KLAUS BEYER videoclip
Jörg Buttgereit has directed a new music clip called "Shaolin Affen". The song is a collaboration of the German outsider artist Klaus Beyer and the American all-star Punk Band OSAKA POPSTAR. Klaus is performing vocals covering the song he has translated from English ("Shaolin Monkeys") into German for his cover version: "Shaolin Affen". watch video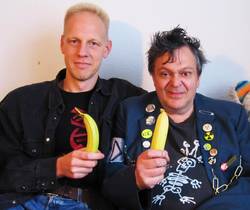 OSAKA POPSTAR is the pop-punk multimedia music and art project led by singer/producer John Cafiero. The Band consists of the groups' founder, frontman and producer John Cafiero with a revolving line-up of legendary special guests in the backing band, including members of the MISFITS, BLACK FLAG, RICHARD HELL & THE VOIDOIDS, THE RAMONES and more.
NEKRO 2 - 20th Anniversary Filmconcert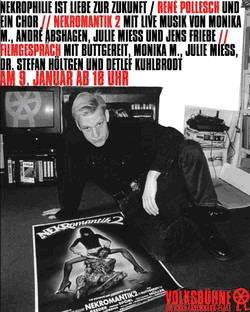 20 years ago, Buttgereits NEKROMANTIK 2 proved to be too much for the German authorities to tolerate. A movie theater premiering the film was raided by the police and the film was banned for several years until it was labled "art" by a German court.
On January 9 of 2011 Jörg Buttgereit will celebrate the 20th anniversary of NEKROMANTIK 2 at the famous stageplay venue Volksbühne in Berlin. Beautiful mainactress Monika M. and band will play a new interpretation of the original film score live on stage. Cast & crew of NEKRO 2 will be present...

Date: Januray 9, 2011, Showtime: 18:00 h
Location: Volksbühne am Rosa-Luxemburg-Platz
Linienstraße 227, 10178 Berlin
Buttgereit in Alicante/Spain
Jörg Buttgereit will be celebrating the 20th anniversary of NEKROMANTIK 2 at the Festival de cine Gore de Alicante in Spain on December 8/ 2010.
¡¡ COMIENZAN LAS NAVIDADES SANGRIENTAS 2010 !!
CAFE-TERROR presenta el "20 Aniversario de la película NEKROMANTIK 2". Proyección especial de la película con la presencia del director Alemán Jörg Buttgereit. Al terminar, habrá una charla-coloquio con el director, y ronda de preguntas del público.
MIERCOLES 8 de Diciembre, 17:30 h. - Lugar : Ocho y Medio asoc. Cultural (Plaza de Santa Teresa, 15-bajo - detrás del Panteón de Quijano)
Buttgereit on facebook
Join the official Jörg Buttgereit facebook
Selected filmography:
2015: German Angst
2013: Lemmy I´m a Feminist (Musik-Clip für "Half Girl")
2012: Ein Moment der Stille am Grab von Ed Gein (2 min.)
2012: Die Frau in der Musik (Musik-Clip für "Stereo Total")
2012: Stageplay GREEN FRANKENSTEIN + SEXMONSTER im Theater Dortmund.
2011: Making of Süsse Stuten 8 (actor, web  series)
2011: Shaolin Affen (music-clip for "Osaka Popstar" & Klaus Beyer)
2010: Into the night with Oda Jaune and Lars Eidinger (French /German TV)
2009: Monsterland
2009: Captain Berlin versus Hitler
2008: Making of Süsse Stuten 7 (actor, web series)
2007: Into the night with Joe Coleman und Asia Argento
2007: Into the night with Mark Benecke und Michaela Schaffrath
2006: Into the night with Bruce LaBruce und Jörg Buttgereit (as himself)
2004: Journey into Bliss (Special effects supervisor, actor)
2002: Die Monsterinsel  aka Monster Island (German TV)
2001: Missy Queen's Gonna Die (music-clip for "Tok Tok")
1998: Lexx - The Series "791" (director)
1998: Lexx - The Series "Nook" (Show producer)
1998: Teenagemakeup (musik-Clip for "Dance or Die")
1997: Die gläsernen Sarkophage (TV)
1996: The Killer Condom (special effects)
1995: I can't let go (music-clip for "Shock Therapy")
1993: The Making of Schramm
1992: Schramm - Into the Mind of a Serial Killer
1992: Corpse Fucking Art
1991: Nekromantik 2 - Return of the loving Dead
1989: Der Todesking aka The Death King
1987: Nekromantik
1986: Jesus - The Film
1985: Hot Love
1984: So war das S.O.36 (co-director)
1984: Horror Heaven
1983: Der Gollob
1982: Captain Berlin - Retter der Welt
1982: Der Trend – Punkrocker erzählen aus ihrem Leben
1982: Bloody Excess in the Leaders Bunker
1981: Mein Papi aka My Daddy (1981-1995)
1981: Manne -The Movie
1981: Ogar der Häßliche
1981: The Exploding Sportshoe